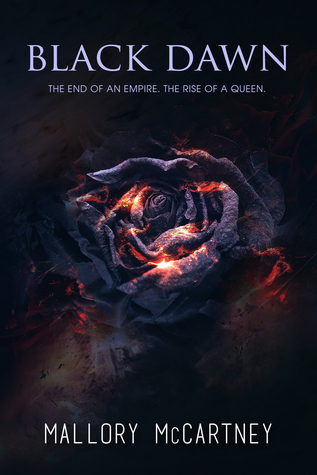 Black Dawn by Mallory McCartney
The end of an Empire, The rise of a Queen
Emory Fae enjoys leading a quiet, normal life. That is until two mysterious, and handsome soldiers show up at her apartment, and the life she knew is instantly whisked away. Memphis Carter and Brokk Foster come from the magical and war ridden world of Kiero, and upon Emory's arrival she will discover she is the long lost heir to the Royal Line and is thrown into the Black Dawn Rebellion with a dynamic role to ignite the rebels and reclaim her throne.
With both men being darkly woven in her past Emory uncovers hidden secrets, a power held long dormant, and will soon realize there are worse things than supernatural humans, love, loss, betrayal, and a Mad King.
Some things are better left in the shadows.
Pages: 180
Format: E-Book
Published By: Clean Reads Publishing
Genre: YA - Fantasy, Romance
FTC Disclaimer: I received this book free to read and review.
Cover Review:
The cover of Black Dawn is absolutely gorgeous. I love the darkness and just the little bit of color that you see. I'm a huge fan of flowers on covers, especially roses.

Rating:
✮✮✮
✮
Review:
This was an amazing story. It was perfectly paced, although a little short (in my opinion... I wanted more), but it was a great read. I would definitely read more in the series if I were given the chance and opportunity.

I really enjoyed getting to know Emory, Memphis, and Brokk. I loved the relationships between the three of them. Three were times where I was annoyed with Memphis, but overall I liked him as much as I liked Emory. Brokk was by far my favorite character. He was such a great character throughout the entire book. I loved Emory! She just reminded me a lot of myself, and I liked when I can relate so well with the main character.