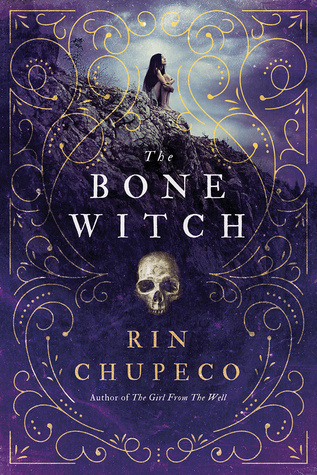 Bone Witch by Rin Chupeco
The beast raged; it punctured the air with its spite. But the girl was fiercer.
Tea is different from the other witches in her family. Her gift for necromancy makes her a bone witch, who are feared and ostracized in the kingdom. For theirs is a powerful, elemental magic that can reach beyond the boundaries of the living—and of the human.
Great power comes at a price, forcing Tea to leave her homeland to train under the guidance of an older, wiser bone witch. There, Tea puts all of her energy into becoming an asha, learning to control her elemental magic and those beasts who will submit by no other force. And Tea must be strong—stronger than she even believes possible. Because war is brewing in the eight kingdoms, war that will threaten the sovereignty of her homeland…and threaten the very survival of those she loves.
Pages: 400
Format: E-Book
Published By: Sourcebooks Fire
Genre: YA - Fantasy, Paranormal
Series: Bone Witch
FTC Disclaimer: I received this book free to read and review, thanks to FFBC.
Cover Review:
I love the cover of this book. I love the color choice and the design that surrounds the cover, and how the main focus is on a skull with the background being the girl of the story.

Rating:
✮
✮✮✮
Review:
Bone Witch was an amazing story. I thought it was unique and intriguing. This book was a little slow compared to fantasy books, that I read, in general I feel, and a little slow for my normal pace, but I still thought it was absolutely amazing! Even with this slower pace, Rin Chupeco has a way of drawing you into her story and not letting you go. So even though the pacing was slow, I felt like it was a quick read overall.
I loved Tea, who is our bone witch. I just thought she was a really great character. I love the way the story is written out, with the way Bard tells the present events, and Tea tells the past events which lead to the point that Bard is telling.
I loved the diversity in the Bone Witch, there are various cultures, personalities, and beliefs that you get seen throughout this story. I love how the author had a way of showing how this story is easy compared to our world today with issues regarding diversity. This story is really complex and as I stated at the beginning, amazing.
I highly recommend that you read this story! It's has a wonderful plot, great characters, and an exciting world.