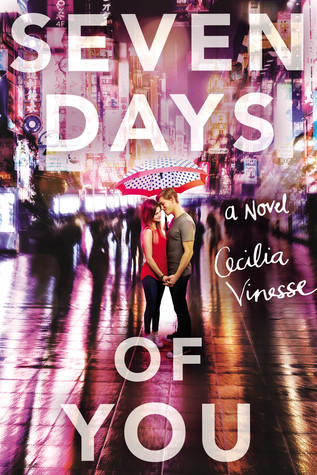 Seven Days of You by Cecilia Vinesse
Sophia has seven days left in Tokyo before she moves back to the States. Seven days to say good-bye to the electric city, her wild best friend, and the boy she's harbored a semi-secret crush on for years. Seven perfect days…until Jamie Foster-Collins moves back to Japan and ruins everything.
Jamie and Sophia have a history of heartbreak, and the last thing Sophia wants is for him to steal her leaving thunder with his stupid arriving thunder. Yet as the week counts down, the relationships she thought were stable begin to explode around her. And Jamie is the one who helps her pick up the pieces. Sophia is forced to admit she may have misjudged Jamie, but can their seven short days of Tokyo adventures end in anything but good-bye?
Pages: 336
Format: Hardback
Published By: Little, Brown Books for Young Readers
Genre: YA - Contemporary, Romance
FTC Disclaimer: I received this book free to read and review, thanks to Little, Brown Books for Young Readers and FFBC Tours.
Review:
I enjoyed this story, but at the same time, it wasn't like the greatest contemporary story that I have read. It was a little slow for my taste overall, but I did really enjoy the story.

The thing I loved most about this story was that it was set in Japan, a little different from the usual books that I read which are typically set in America. I loved just getting a sense of a different culture.

I also really liked Sophie and Jamie. I thought they were a cute couple. I realize that they have history, but at the same time, I just felt like it was a whirlwind romance and I just feel like I'm not a fan of a seven-day romance.

The ending was nice, it wasn't a favorite of mine. It wasn't bad but it wasn't was how I was hoping it would end, and just wasn't a great point of the story.

I would definitely recommend that you read this book if you love YA contemporary romances because it was a cute, quick read. It is a good book that can be read if you don't want something that is really emotionally-investing.