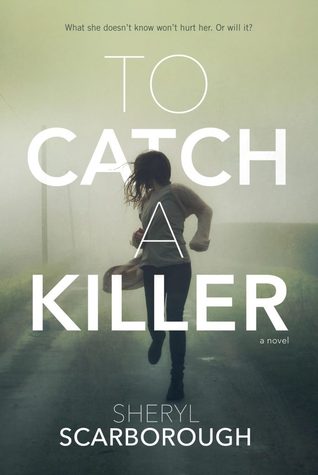 To Catch a Killer by Sheryl Scarborough
Erin Blake has one of those names. A name that, like Natalee Holloway or Elizabeth Smart, is inextricably linked to a grisly crime. As a toddler, Erin survived for three days alongside the corpse of her murdered mother, and the case—which remains unsolved—fascinated a nation. Her father's identity unknown, Erin was taken in by her mother's best friend and has become a relatively normal teen in spite of the looming questions about her past.
Fourteen years later, Erin is once again at the center of a brutal homicide when she finds the body of her biology teacher. When questioned by the police, Erin tells almost the whole truth, but never voices her suspicions that her mother's killer has struck again in order to protect the casework she's secretly doing on her own.
Inspired by her uncle, an FBI agent, Erin has ramped up her forensic hobby into a full-blown cold-case investigation. This new murder makes her certain she's close to the truth, but when all the evidence starts to point the authorities straight to Erin, she turns to her longtime crush (and fellow suspect) Journey Michaels to help her crack the case before it's too late.
Pages: 320
Format: Hardback
Published By: Tor Teen
Genre: YA - Thriller, Mystery, Contemporary
FTC Disclaimer:
I received this book free to read, thanks to
Bookwraiths
.
Cover Review:
This cover is absolutely beautiful. I love the fog in the background because I think it really adds that air of mystery to the cover of this thriller book. I'm typically not a fan of books that have a person featured but I like that her face is turned away, looking behind her, which again is very accurate for the story.

Rating:
✮
✮
✮✮✮
Review:
To Catch a Killer by Sheryl Scarborough was one of my most anticipated reads of 2017. I was completely drawn in by what this story was about and mystery/thrillers/suspense are probably my favorite type of story. To Catch a Killer lived up to the expectations I had for it.
I am going to point out that the names were not a favorite of mine: Spam and Journey. All though, Spam's name turned out to actually be Samantha but still, wasn't really a fan of those names. That being said, Spam reminded me a lot about myself. She's fiesty and spirited, with a lot of determination. Erin was the same way, but I don't think she was as spirited as Spam, but Erin was also a lot like me. She again was very determined, and she had a knack and love for forensics. They were probably my two favorite characters.
I also really liked Victor, and liked how he paid attention to Erin which I feel isn't typically common in YA books. Parents/Adults are either very absent in the story or they just don't believe or understand the teenager. Rachel was a character that I was going back and forth with whether I liked her or not, solely based on her decisions throughout the story, but I ended up liking her. And I loved Journey. He was just really sweet and nice, and just someone I find hard not to like.
I liked the romance. I didn't think it was rushed, and I felt like it was in the story a nice amount without taking over the story. I think that Journey and Erin are such a great couple, and I think that they were cute together.
The plot was fantastic. It kept me on my seat because it was action-packed and nicely-paced. I will say that almost roughly 1/4 into the story, I had figured out who the killer was. It wasn't really a shocker to me based on actions and mannerisms. There was also another thing that Erin was trying to figure out which about her life in the story, and I kinda assumed that "the potential at the end" was what she was looking for before it was mentioned.
So, my final thoughts are that this is a wonderful mystery that will keep you ensnared because it contains a great plot and great characters. I also would love to have the final question (regarding the "potential" mentioned above answered. I am satisfied where this story left off, but if Sheryl Scarborough writes a sequal in the future, I will definitely read it!