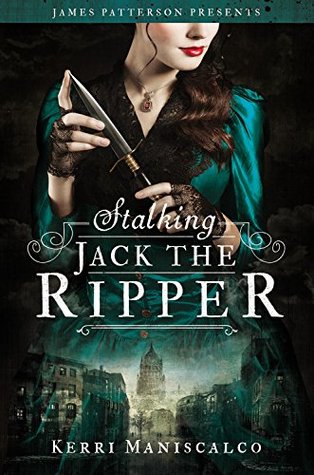 Stalking Jack the Ripper by Kerrie Maniscalco
Seventeen-year-old Audrey Rose Wadsworth was born a lord's daughter, with a life of wealth and privilege stretched out before her. But between the social teas and silk dress fittings, she leads a forbidden secret life.
Against her stern father's wishes and society's expectations, Audrey often slips away to her uncle's laboratory to study the gruesome practice of forensic medicine. When her work on a string of savagely killed corpses drags Audrey into the investigation of a serial murderer, her search for answers brings her close to her own sheltered world.
Pages: 326
Format: Hardback
Published By: Jimmy Patterson
Genre: YA - Historical, Mystery
Cover Review:
I absolutely love the cover of Stalking Jack the Ripper. I love that the cover is an overlapping image of the Whitechapel district and Audrey Rose. I think it sums up how dark the story is, and really gives you an insight into what Audrey is like throughout the story.

Rating:
✮
✮
✮✮✮
Review:
Stalking Jack the Ripper was an exciting read which had me hooked right from the beginning. Jack the Ripper retellings are some of my favorite stories, and this one did not disappoint at all. The pacing of the story was great, the characters were very well-written, and the plot was exciting.

I found Audrey Rose to be very relatable. She was very similar in personality: stubborn, driven, and curious. She doesn't let anything hold her back from what she is passionate about. I also like her challenging the view that women are weak and incapable of handling what men can handle. I loved Thomas. He did annoy and frustrate me at times but I still loved him. I loved the relationship that developed between Audrey Rose and Thomas, and I was glad that it was an insta-love romance, although the chemistry was there from the beginning. I loved Audrey Rose's eccentric uncle, and I thought he was a nice addition to the story.

I liked the story that Karri developed. I was going back and forth the entire story of who I thought Jack the Ripper was and why. My final guess was accurate although my reasoning was wrong. Interestingly, I feel that the author gave a few clues to why throughout the story. All in all, I thought this was a great read. I cannot wait to read the continue this series with Hunting Prince Dracula.