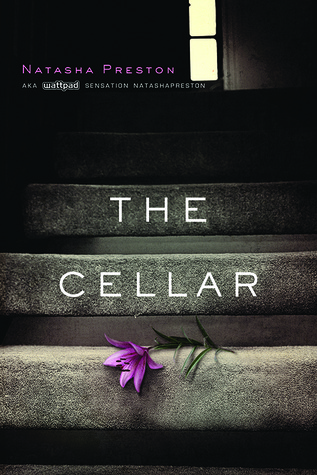 The Cellar by Natasha Preston
Nothing ever happens in the town of Long Thorpe – that is, until sixteen-year-old Summer Robinson disappears without a trace. No family or police investigation can track her down. Spending months inside the cellar of her kidnapper with several other girls, Summer learns of Colin's abusive past, and his thoughts of his victims being his family…his perfect, pure flowers. But flowers can't survive long cut off from the sun, and time is running out….
Pages: 347
Format: E-Book
Published By: Sourcebooks Fire
Genre: YA - Thriller
Series: The Cellar
Cover Review:
I absolutely love the cover. I love the importance of the flower and the eeriness that is conveyed with the dark cover. I think the cover really represents what the story is about, and if you go in without knowing the synopsis, you can at least have a feel regarding what the book may be about.

Rating:
✮✮✮
Review:
The Cellar by Natasha Preston was a very interesting read. I haven't read another book like this one. It's very dark in nature, but also light enough that it can be read by a YA audience. It should be read with caution though because it does feature abuse, murder, and the mention of rape.

In general, I feel that the author handled the darker aspects of the story well, and I thought she showed, not told, how the girls feared their captor. I also felt that Preston did a great job of portraying Stockholm's Syndrome and the effects of that on Rose and then on the other girls living there. I also liked getting into Clover's mind - I hated him, but I thought it added an extra layer to the story.

Overall, the plot of the story, I thought was well written. What I had a huge problem with was that I really didn't like any of the characters. There were two I liked, but because of how the story was written... it was just hard to relate. Yes, I felt horrible for Summer and wanted her out of the situation, as I did with the other girls, but I didn't like how she was written or portrayed. And I really didn't like Lewis either. It just kind of ruined the story for me.

Again, this was a pretty good story. It was lacking in the character department for me, but I still think it was a good read. I would highly recommend the book. I also think it's a good awareness of what can happen psychologically to a kidnapped victim if you don't know. I would recommend this book.

I do want to acknowledge that this is the first book in a duology, but I don't have plans to read the second. This book was good, and I was satisfied with how the book ended. Without reading the second book, I don't think it was necessary. In my personal opinion, books like this should end and not continue. Secondly, I have heard some things regarding what the second book is about and honestly, I have no desire to read that.