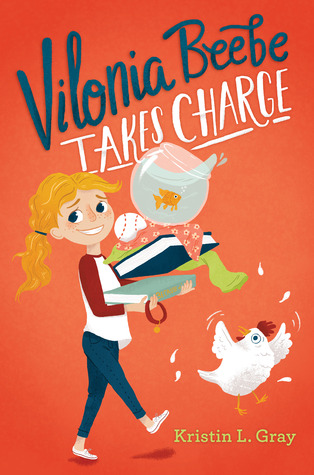 Vilonia Beebe Takes Charge by Kristin L. Gray
Being responsible is NOT easy.
Fourth-grader Vilonia hasn't lost her raincoat in the three weeks she's had it, and she's brushed her teeth every night and she's volunteered to be the Friday Library Helper. But all that hard work is worth it if it means she can get a dog. Besides, this dog isn't just because Vilonia has wanted one for pretty much ever. It's also to help Mama, who's been lost in one, big sadness fog for forty-three days—ever since Nana died. But Vilonia read that pets can help with sadness.
Now all she has to do is keep the library goldfish alive over spring break, stop bringing stray animals home, and help Mama not get fired from her job. And she's got to do all of it before the Catfish Festival. Easy as pie, right?
Pages: 208
Format: Hardback
Published By: Simon Schuster/Paula Wiseman Books
Genre: MG - Contemporary
Review:
Vilonia Beebe was a cute, quick read about a young girl who is trying to prove to her family that she is responsible enough to get a dog, while also trying to help make sure things don't fall apart for her family. It was definitely a lighter novel, but it did have some really sad moments throughout.

Overall, I really enjoyed the plot and getting to know Vilonia and her friend, AC, but there were a few issues I had with the book. The first being the fact that she takes over her mom's job. It was just too unbelievable, and I couldn't really wrap my mind around nine-year-old writing obituaries. The other thing that really bothered me was that fact that she was just riding around by herself wherever and whenever she wanted.

I would still recommend it because it was a cute novel, and the characters and plot were great. I look forward to reading more by Kristin L. Gray.