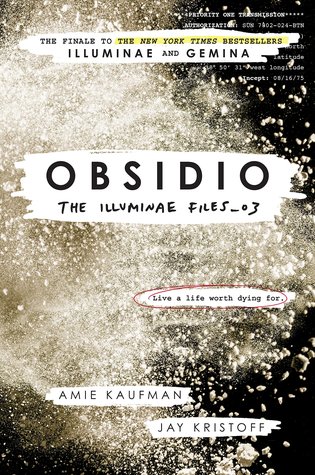 Obsidio by Amie Kaufman and Jay Kristoff
Kady, Ezra, Hanna, and Nik narrowly escaped with their lives from the attacks on Heimdall station and now find themselves crammed with 2,000 refugees on the container ship, Mao. With the jump station destroyed and their resources scarce, the only option is to return to Kerenza—but who knows what they'll find seven months after the invasion?
Meanwhile, Kady's cousin, Asha, survived the initial BeiTech assault and has joined Kerenza's ragtag underground resistance. When Rhys—an old flame from Asha's past—reappears on Kerenza, the two find themselves on opposite sides of the conflict.
With time running out, a final battle will be waged on land and in space, heroes will fall, and hearts will be broken.
Pages: 615
Format: Hardback
Published By: Knopf Books for Young Readers
Illustrator: Marie Lu
Genre: YA - Sci-Fi
Series: Illuminae Files
Review:
Obsidio by Amie Kaufman and Jay Kristoff was another amazing continuation of the Illuminae Files, taking place right after the events of Gemina, but with an addition of new perspectives. I loved it almost as much as the first two, my biggest problem with the book is there were quite a few moments where the viewpoints throughout the novel were from previous characters from the series, and I felt that I didn't get to really know the characters in this book as much. It was still a great book, and hooked me from the beginning, and didn't take any time at all for me to finish. Obsidio takes place on Kerenza, which is Kady, Ezra, and Asha's home planet, and the planet that our previous characters are heading. Overall, I feel that there isn't as much going on as with the previous novels, there is mainly only one thing happening: BeiTech and the resistance.

So I really liked Asha, but she wasn't as hands-on kick-butt as our previous heroines, although she was willing to do everything in her power to protect a little girl in her care. She's still a very strong female character. I was also a huge fan of Rhys, and I felt that if we had seen more of him than I would have liked him more than Ezra because he has a strong moral compass and isn't afraid to challenge what he thinks is wrong. The big problem I had with this book in regards to our romance is that I just didn't feel the chemistry as much with these characters as I did with our previous couples, but I still liked Asha and Rhys as a couple.

And once more, my favorite part about this series was the way it was told through documents: emails/IMs, files, reports, interviews, and art. I just loved the uniqueness in that regard.

I would highly recommend this series if you haven't yet had the chance to pick it up yet. Yes, it's a rather long series, but because of the way it's written, it's a fairly quick read (in my opinon), and didn't take long to get through.