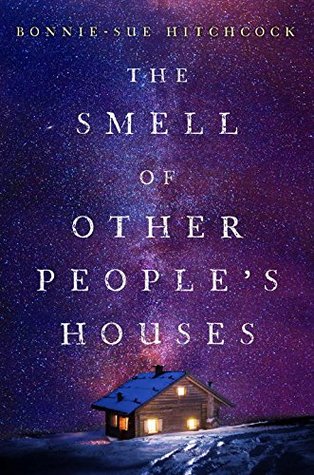 Smell of Other People's Houses by Bonnie-Sue Hitchcock
In Alaska, 1970, being a teenager here isn't like being a teenager anywhere else. Ruth has a secret that she can't hide forever. Dora wonders if she can ever truly escape where she comes from, even when good luck strikes. Alyce is trying to reconcile her desire to dance, with the life she's always known on her family's fishing boat. Hank and his brothers decide it's safer to run away than to stay home—until one of them ends up in terrible danger.
Four very different lives are about to become entangled.
Pages: 240
Format: E-Book
Published By: Wendy Lamb Books
Genre: YA - Historical Fiction
Review:
Smell of Other People's Houses was is one of my most disappointing reads of this year. I was somewhat hesitant when picking this book up because it's not usually the type of book that I am drawn to, but the high ratings convinced me to give this book a try. Smell of Other People's Houses is about four teenagers whose lives are tied together, although their stories are all different.

Ruth is a character that I have mixed feelings regarding. She was kind of annoying and boring at the beginning, and then something happens in her life that allows her some character growth, and although I liked her better at the end of the book, it wasn't enough to make up for how much I didn't like her at the beginning. I couldn't relate to her.

Dora was another character that I didn't like - and at no point in the book did my feelings regarding her change. She was annoying, rude, and to be honest, one of the worst characters that I have ever read. Her attitude throughout the book is frustrating, and she doesn't really grow - and I tried giving her leeway considering her circumstances but it was still hard to like her even a little. It was impossible to relate to her.

Alyce was by far my favorite character out of the book. I liked her friendly personality and kind spirit. I also liked getting to know her as the story progressed. Out of all four main characters, she was the only one that I was able to relate to.

Hank was the final character, and although, I generally liked his personality and character, I wasn't able to relate to him, and that was a little disappointing. I loved the relationship that he had with his brothers, although you get to see one relationship more fully throughout the novel.

All in all, it's not a book that I would recommend, and not one that I would ever read again. I just wasn't a fan of the book. I liked that all stories tied together, but the problem was that they were four distinct plots in a book that is barely over 200 pages. To me, it felt like you don't really get to know deep down who the characters are, and I think it also makes it hard for there to be a lot of action because there is a lot of explaining happening, which makes the book slow and a tad boring to get through. This book just wasn't for me, and if you do pick it up, I hope that you enjoy it much more than I did.