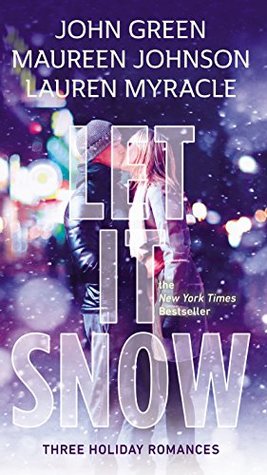 Let it Snow by Maureen Johnson, John Green, and Lauren Myracle
Sparkling white snowdrifts, beautiful presents wrapped in ribbons, and multicolored lights glittering in the night through the falling snow. A Christmas Eve snowstorm transforms one small town into a romantic haven, the kind you see only in movies. Well, kinda. After all, a cold and wet hike from a stranded train through the middle of nowhere would not normally end with a delicious kiss from a charming stranger. And no one would think that a trip to the Waffle House through four feet of snow would lead to love with an old friend. Or that the way back to true love begins with a painfully early morning shift at Starbucks. Thanks to three of today's bestselling teen authors—John Green, Maureen Johnson, and Lauren Myracle—the magic of the holidays shines on these hilarious and charming interconnected tales of love, romance, and breathtaking kisses.

Pages: 365
Format: E-Book
Published By: Speak
Genre: YA - Contemporary, Romance


Rating:
Review:
Jubilee Express: ✮✮✮✮
This was a quick, but cute short story. I really enjoyed the relationship that developed between Jubilee and Stuart, and Stuart's family. I loved both Rachel (even though she wasn't in the story that much) and Debbie (who was probably my favorite character in the whole story). I thought it was quite funny, the story had me chuckling throughout. Loved it!
Cheertastic Christmas Miracle: ✮✮
So I was debating whether or not to give this one three stars, but I settled for two because I just overall didn't like the constant sexism. I do get that it was meant to be played off lightly, and that some of it was to drive the story, but I just thought it was overdone, and it was slightly annoying at times. I really didn't like any of the characters except for the Duke. I could care less about the "love story" in this short story. It was another quick read, and if you love John Green's novels, you would probably also like this story (the only John Green book I have read (An Abudance of Katherines), I didn't like... maybe John Green books just aren't for me...)
Patron Saint of Pigs: ✮✮✮✮
I really enjoyed this short story also. It really rounded out all of the stories. It was another cute, quick read that made me smile. I felt for Addie as she discovered things about herself that she didn't realize before, and grew throughout the story. I wasn't as excited about the romance in this story, but it didn't really happen to the end, and it was easy to see that there was some focus of the story that was on Addie being the kind of person that she would be proud of.