TBR Tag
I saw this tag over at Spines and Covers, and I thought it would be fun to do. If you want to do this, then consider yourself tagged. Now let's get to it...
HOW DO YOU KEEP TRACK OF YOUR TBR PILE?
I keep track of my tbr pile on goodreads, but honestly, more than half of my tbr pile will never be read because I continually add more books, but never take books off even when I know I will probably never read them.
IS YOUR TBR MOSTLY PRINT OR EBOOK?
If we are talking, in regards to my tbr pile of books I own, that would be probably half/half. If we are talking, in regards to my tbr pile of all the books I want to read whether I own them or not, then it would be more ebook because I typically get ebook copies from my library, and I borrow books a lot.
HOW DO YOU DETERMINE WHICH BOOK FROM YOUR TBR TO READ NEXT?
It would be based on my mood. I never set a tbr for the month that I am going into, because I will never read those books that I say I will because I'm such a huge mood reader. Typically though, if I have a thriller/suspense/horror/mystery/etc., I will probably end up reading that because I think there is a part of me that is permanently in the mood for that genre. If you are interested, I did a post on my Top Ten books that I want to read in those categories, check it out here.
A BOOK THAT'S BEEN ON YOUR TBR LIST THE LONGEST?
I'm going to base this off of my tbr list on goodreads since I don't know in regards to my own bookshelf, but Blood Magic by Tessa Gratton has been on my list since March of 2013. I have attempted to read this book at least 3 times, but each time ended up returning to the library without reading it. There's a good chance I will never read this book.
A BOOK THAT YOU RECENTLY ADDED TO YOUR TBR PILE?
The most recent is the Castaways by Jessika Fleck. I don't actually recall how I stumbled upon this book, I maybe entered a giveaway because it sounded interesting. This is Jessika's debut book, and it's a mystery. This came out April 3rd.
A BOOK ON YOUR TBR STRICTLY BECAUSE OF ITS BEAUTIFUL COVER.
So if you follow me, then you have probably heard me mention this a few times. Whenever there is a question like this, this book is mentioned because it is the most recent that fits this question and it's still on my tbr, and that's Shades of Darkness by A.R. Kahler.
A BOOK ON YOUR TBR THAT YOU NEVER PLAN ON ACTUALLY READING.
That would probably be Ethereal by Addison Moore. At the time when I added this to my tbr, I really wanted to read it, but now I just have absolutely no desire to read it.
AN UNPUBLISHED BOOK ON YOUR TBR THAT YOU'RE EXCITED FOR.
I was really worried that this would be a tough question for me to answer, but when I looked at my list, I was like there is no competition. In the near future, I am going to start doing author spotlights where I will randomly feature some of my favorite authors and their books, and the first author I plan on spotlighting is Jennifer L. Armentrout because so far I have loved every book I have read of hers (which isn't much), but on April 25th, her book, Dead List, comes out, and I cannot wait to read it.
A BOOK ON YOUR TBR THAT BASICALLY EVERYONE HAS READ EXCEPT YOU.
This one is really easy. Harry Potter. I, for the longest time, just really had no desire to read this book... mostly because my cousin had read it, and I didn't want my family to think I had read it because she had (this was when I was much younger), but after that I just never got around to it. For Christmas, I had mentioned to a good friend of mine who is also a reader that I wanted to read the Harry Potter series, and she got me the first 3 books in the series which is super exciting, and once school ends, I plan on marathoning at least those 3. My birthday is coming up though, so fingers crossed that she gets me the final 4.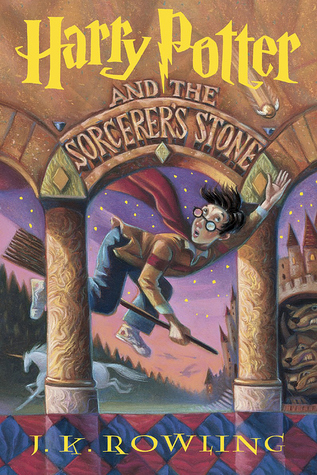 A BOOK ON YOUR TBR THAT EVERYONE RECOMMENDS TO YOU.
I thought this was going to be tough because typically when books are recommended to me, I read them as soon as possible, but both of my sisters and our friend have recommended/order me to read Kasie West's Pivot Point. I actually really want to read this book. I love her contemporaries, and have read all but her last one (due to it coming out during school where I devot more time to review books and less of my own personal pick-up books). There is a part of me that is worried that I have really high expectations for Pivot Point, because I love her books, and this is a different genre than the rest, and I don't want to read it and not like it.
A BOOK ON YOUR TBR THAT YOU'RE DYING TO READ.
This is a toss-up between two books. One, I actually own an ARC of, which is Roar by Cora Carmack. I am really intrigued about this book and cannot wait to read it. The other is Run by Greg Olsen. It took me maybe 2 hours to read both of the books in his other YA series, and I have been dying for him to write another book in that series, but instead he is starting another series that is also a mystery series, and I definitely want to read it.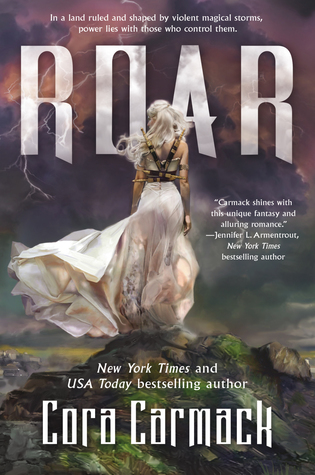 THE NUMBER OF BOOKS ON YOUR GOODREADS TBR SHELF?
WHAT ARE SOME OF THE BOOKS ON YOUR GOODREADS TBR SHELF?