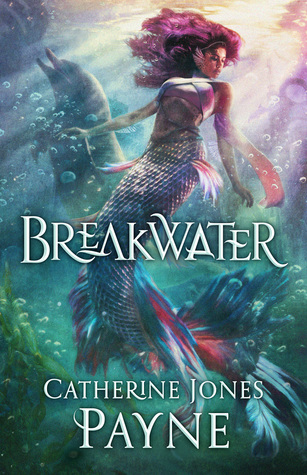 Breakwater
by Catherine Jones Payne

Genre: YA Fantasy/Mermaids

Release Date: May 30th 2017

Fathom Ink Press


A red tide is rising.

As the daughter of one of the mer-king's trusted advisors, seventeen-year-old Jade has great responsibilities. When her fiancé murders a naiad, plunging the underwater city of Thessalonike into uproar, tensions surge between the mer and the naiads. Jade learns too late that the choices she makes ripple further than she'd ever imagined. And as she fights against the tide of anger in a city that lives for scandal, she discovers danger lurking in every canal, imperiling her family and shattering the ocean's fragile peace.

Can the city's divisions be mended before the upwelling of hate rips apart everything Jade loves?
Kobo
Review:
4 stars
This was an entertaining and fast read about mermaids. The only problem with the pacing was that I felt some of the aspects of the story were a little rushed, leaving me wishing the story was a little slower than what it had ended up.
I really enjoyed the plot of the story, and you can see how the book was plot-driven, rather than character-driven. It would have been nice if the story had been a mix of plot and character -driven. The characters weren't as well developed as I would have liked.
Besides those two issues, the book was really fantastic and I really enjoyed reading it. I would highly recommend, especially if you are interested in fantasy.
About the Author
Catherine Jones Payne is a Seattle native who loves the written word, international travel, crashing waves, and good coffee. Her earliest memory involves pulling up a rolling chair to her parents' old DOS computer—while wearing a tiara, naturally—and tapping out a story of kidnapped princesses. By day she's the managing editor of Quill Pen Editorial and the editor of Splickety Magazine. She lives in Waco, TX with her historian husband, Brendan, and their cats, Mildred and Minerva.
GIVEAWAY:
Blog Tour Organized by: